The matte-ness is slowly growing upon me.
a small revelation here,
i have never thought of myself as a matte lipstick fan because i've always associated matte with "dryness".
plus, growing up under the influence of japanese makeup where juicy and plump lips are the desired look,
matte lips just never appealed to me,
until recently.
that's the up side of being exposed to different standards of beauty.
not only does it widen my perspectives, i learnt to appreciate a whole new range of lip products i've never laid eyes upon before.
from my lipstick collection, i picked out these 4 matte products (because the majority are still non-mattes).
they are all drugstore brands (revlon, maybelline and l'oreal) available in singapore.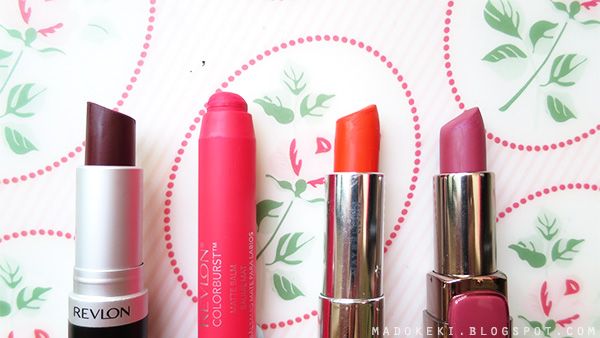 from left to right: REVLON super lustrous matte / REVLON colorburst matte balm / MAYBELLINE colorsensational bold matte / L'OREAL moist matte
i feel like matte lipsticks aren't that popular in the singapore market because the selection is a lot smaller than other finishes.
but i managed to pick out a few good ones.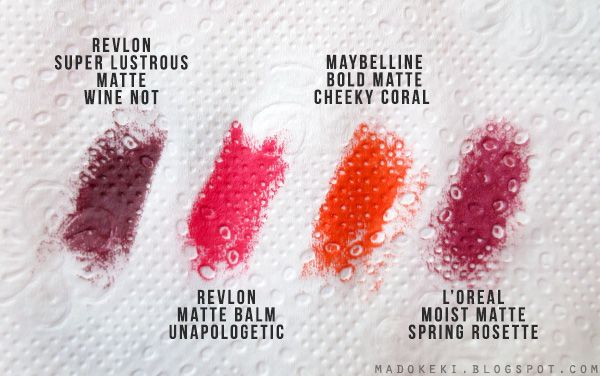 REVLON super lustrous matte (010 wine not)
is a dark raisin colour, leaning towards a brownish/purplish shade. the lipstick is smooth on my lips and deposits a thin layer of colour that can be built up to my desired intensity in 2 swipes. settles into lip lines easily, works best with a thin layer of lip balm underneath it. not very moisturizing, but i can get 2-3 hours of comfortable wear out of this before reapplication.
REVLON colorburst matte balm (210 unapologetic)
is a bright pink, it's closer to coral than hot pink. the lipstick glides extremely smoothly to deposit a generous amount of lipstick, you can probably get full intensity with just one swipe. just beware of getting too much product on as it might end up looking uneven. it doesn't feather, but the product does bunch up. doesn't feel drying, but it will sink into my lip lines after several hours. a complete removal before reapplication is recommended (to prevent overdose of product). thankfully, removing this stuff is as easy as wiping it off.
MAYBELLINE coloursensational bold matte (MAT 3 cheeky coral)
is an orange! application is smooth but sheer, even after several swipes the colour fails to build up to the intensity of the bullet. probably works best as a blusher than a lipstick. it's not even a full matte as there's a slight sheen after application. feels more moisturizing than the previous 2 revlon lipsticks though!
L'OREAL moist matte (PR511 spring rosette) is dark dusty pink, even though it looks pretty dark on the swatch above it looks a lot lighter when on my lips (it's probably looking darker when compared to the white tissue) the formulation is perfect, the lipstick glides like butter and deposits just the right amount of products. highly pigmented, even, and moisturizing. it can feel dry after 4 hours and accentuate lip lines beyond that, so it's time to reapply. from memory, i can reapply straightaway without removing the remnants first.
MY FAVOURITE?
this is my ranking:
L'OREAL moist matte > REVLON colorburst matte balm > REVLON super lustrous matte > MAYBELLINE colorsensational bold matte
one thing for sure, my matte lipstick collection is only going to grow.