Basic skin care, Special skin care
here comes the skin care products after the overall winners (grand prize, hall of fame, and best new buy) are published in
part 1
of the @cosme awards series.
warning: there's A LOT of products.
last year i didn't blog about the special skin care
, but since i'm an avid user of facial oils now i might as well include that section in :P
all information and images are taken from the
official @cosme website
.
BASIC SKIN CARE
CLEANSING
1. FANCL | MILD CLEANSING OIL
"removes the most stubborn makeup without drying skin out"
2. BIFESTA | URUOCHI WATER CLEANSING EYE MAKEUP REMOVER
3. COSME DECORTE | AQ MELIORITY REPAIR CLEANSING CREAM
FACE WASH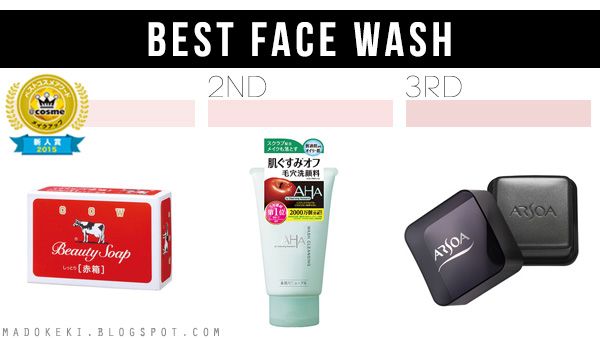 1. COW BRAND | BEAUTY SOAP RED BOX (MOISTURIZING)
"well loved by people who likes simple skin care"
2. CLEANSING RESEARCH | WASH CLEANSING
3. ARSOA | ARSOA QUEEN SILVER
MOISTURIZING TONER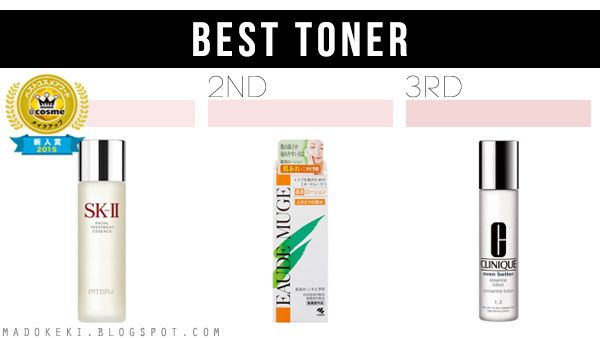 1. SK-II | FACIAL TREATMENT ESSENCE
"a luxury lotion that gives a boost the skin's natural beauty"
2. EAUDE MUGE | EAU DE MUGE MEDICATED LOTION
3. CLINIQUE | EVEN BETTER ESSENCE LOTION
SERUM/BOOSTER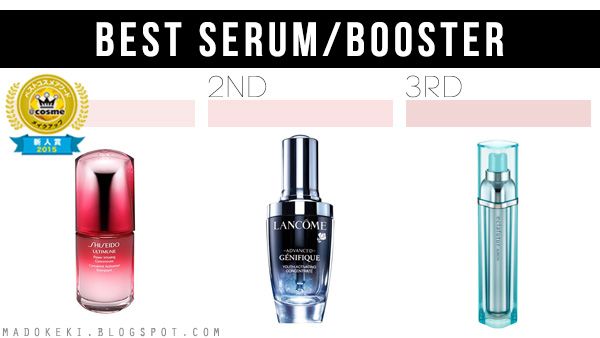 1. SHISEIDO | ULTIMUNE POWER INFUSING CONCENTRATE
2. LANCOME | GENEFIQUE ADVANCED
3. ALBION | ECLAFUTUR
FACE LOTION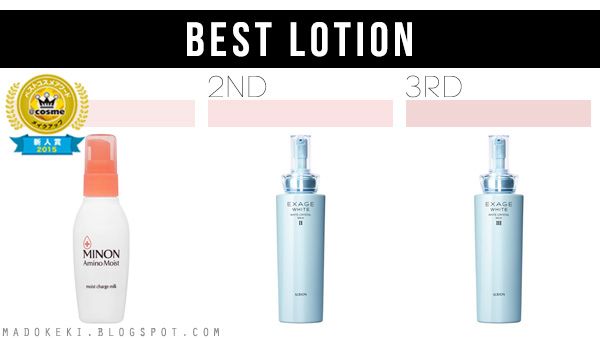 1. MINON | AMINO MOIST MOIST CHARGE MILK
"delivers long lasting moisture and smoothness to sensitive skin"
2. EXAGE | EXAGE WHITE WHITE CRYSTAL MILK II
3. EXAGE | EXAGE WHITE WHITE CRYSTAL MILK III
FACE CREAM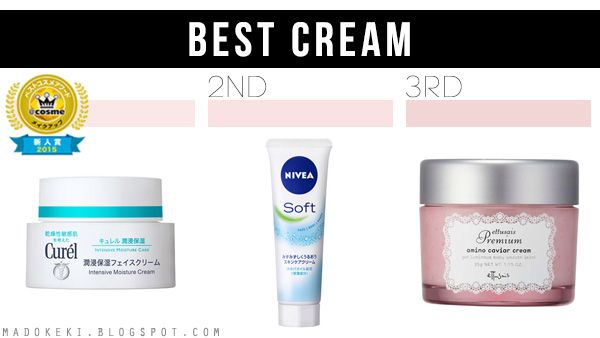 1. CUREL | INTENSIVE MOISTURE CREAM
2. NIVEA | NIVEA SOFT SKIN CARE CREAM
3. ETTUSAIS | PREMIUM AMINO CAVIAR CREAM
SUNBLOCK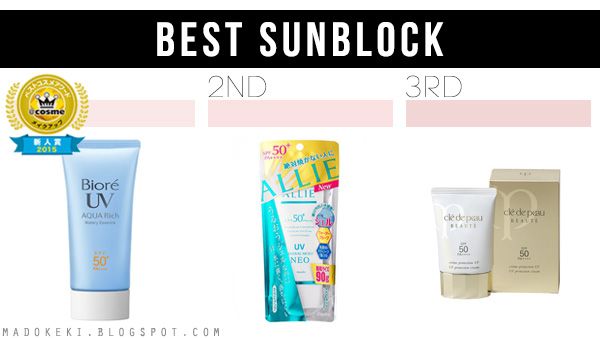 1. BIORE | UV AQUA RICH WATERY ESSENCEY SPF 50+
"provides the highest level of UV protection without feeling heavy"
2. ALLIE | EXTRA V MINERAL MOIST NEO
3. CLE DE PEAU | UV PROTECTION CREAM
SPECIAL SKIN CARE
OIL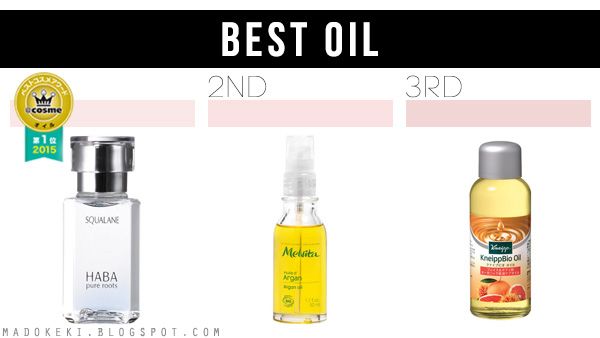 1. HABA | PURE ROOTS SQUALANE
"a long seller loved by all skin types"
2. MELVITA | ARGAN OIL
3. KNEIPP | KNEIPPBIO OIL
LIP CARE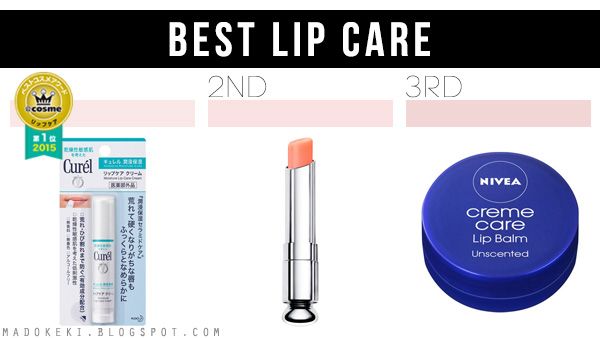 1. CUREL | LIP CARE CREAM
"maintains a high level of moisture for a long time"
2. DIOR | DIOR ADDICT LIP GLOW
3. NIVEA | NIVEA CREME CARE LIP BALM (UNSCENTED)
EYE CARE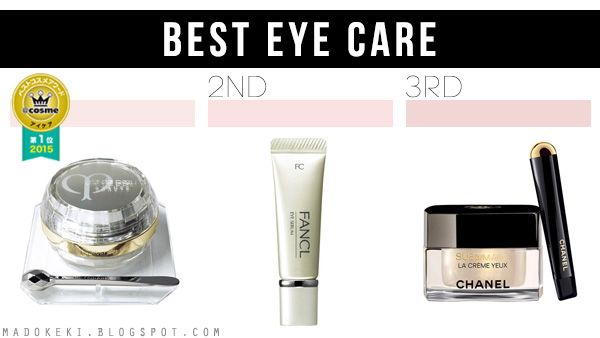 1. CLE DE PEAU | INTENSIVE EYE CONTOUR CREAM
"gives you smooth, firm and radiant eyes"
2. FANCL | EYE SERUM
3. CHANEL | SUBLIMAGE LE CREME YEUX
SHEET MASK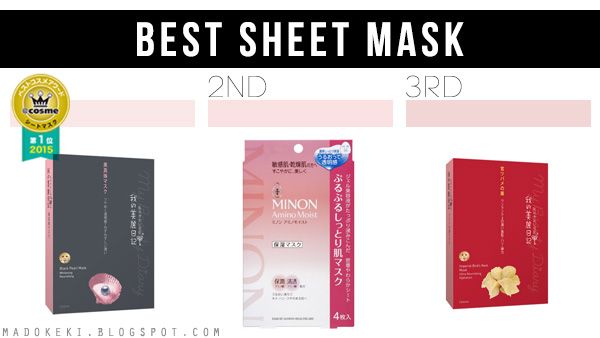 1. MY BEAUTY DIARY | BLACK PEARL MASK
"gives you the most bang out of your buck with their low price and carefully selected ingredients to achieve transparent and clear skin"
2. MINON | MOIST SKIN CASK
3. MY BEAUTY DIARY | IMPERIAL BIRD'S NEST MASK
EXFOLIANT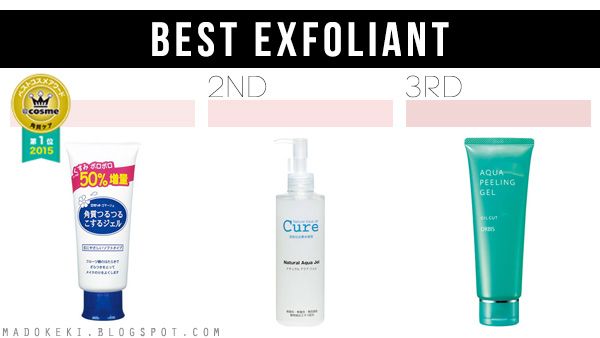 1. ROSETTE | ROSETTE PEEL
"removes dead skin cells gentle, makeup glides on evenly after exfoliation"
2. CUREL | NATURAL AQUA GEL CURE
3. ORBIS | AQUA PEELING GEL
MASSAGE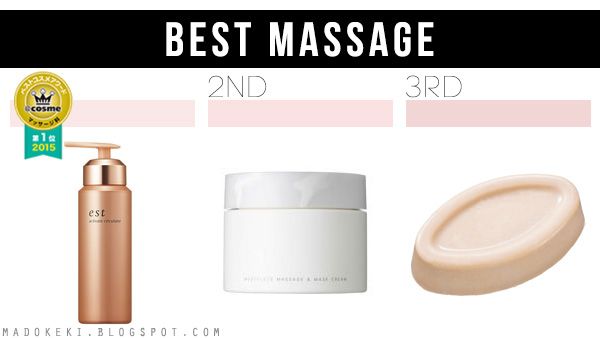 1. EST | ACTIVATE CIRCULATOR
"30 seconds of massage with the carbonic acid foam and you'll get a lit from within glow"
2. SUQQU | MUSCULATE MASSAGE AND MASK CREAM
3. LUSH | FULL OF GRACE
EYELASH SERUM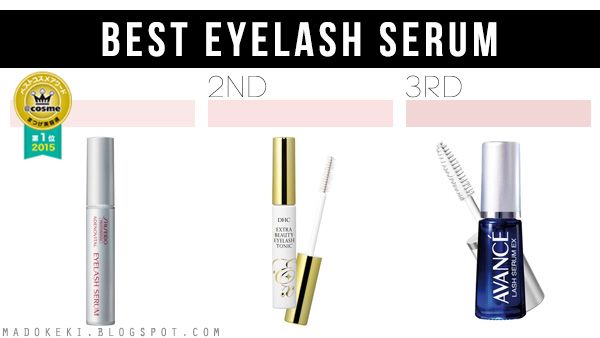 1. SHISEIDO PROFESSIONAL | ADENOVITAL EYELASH SERUM
"repairs damaged lashes while it lengthens and volumizes at the same time"
2. DHC | EXTRA BEAUTY EYELASH TONIC
3. AVANCE | LASH SERUM EX
SKIN CARE POWDER
1. PIGEON | BABY POWDER (MEDICATED)
"a travel friendly multi purpose powder"
2. MAQUILLAGE | SNOW BEAUTY 2
3. EXAGE | EXAGE WHITE WHITE CONDITIONING POWDER
if you're looking to purchase some of these products, you can do so conveniently at the
@cosmeshopping
website where they grouped all the award winning products together in one place.
part 3 (eye makeup) will be up next week!