Oils are just like teenagers: misunderstood.
Now that the climate is a little dryer (assuming you're in a temperate region), it's time to whip out the extra nourishing stuff to pamper your skin. Well, if you sleep in an air conditioned environment, this applies to you too.
Oils are truly versatile, and probably the most misunderstood product thanks to misleading marketing in the past (where they blamed external use of oils for oily skin). You can use oils to remove makeup, massage, nourish your hair and body, and as the last step of your skin care routine to seal in all the moisture.
Not only are they a gift to people with dry skin, they might be able to help you rebalance your oily and dry skin too! Since overly oily skin is sometimes caused by dehydrated skin. I'd say it's the one product that EVERYONE can use.
Here are 5 products that are pretty popular in Japan (according to my little birdies over at @cosme), and an similar alternative (that cost less) to it because not all products are readily available worldwide.
Disclaimer: some of the links are affiliated links!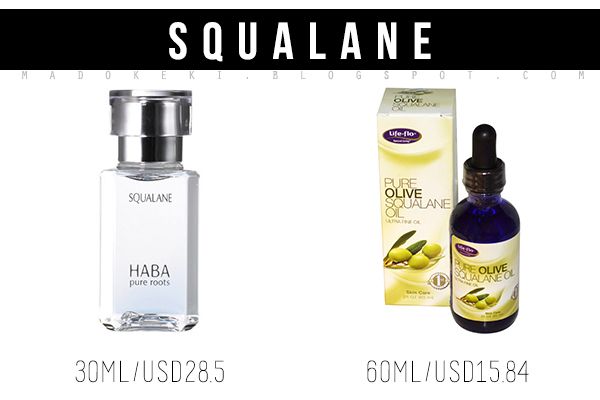 Derived from shark liver oil. Squalane is naturally present in our skin, but due to all sorts of internal and external factors, one might need a little outside help to boost it's concentration in our skin. It's absorbed quickly into the skin to restore soft skin.
VERSUS
LIFE FLOW HEALTH | PURE OLIVE SQUALANE OIL | 60 ML | USD 15.84
Derived from olive oil. Technically speaking both compounds are similar on a chemical level. If you're vegan, this plant based squalane oil might be a better option for you!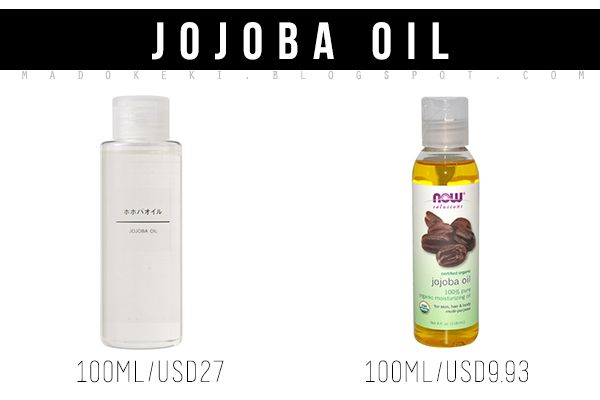 MUJI | JOJOBA OIL | 100 ML | USD 27
This purified jojoba seed oil is colourless. Since Jojoba oil is very similar to our own lipids in our skin, it penetrates our skin well and leave it hydrated and nourished.
VERSUS
NOW FOODS | ORGANIC JOJOBA OIL | 118 ML | USD 9.93
Organic jojoba seed oil. I actually tried this before! It smells a little nutty, and is somewhat thicker than sweet almond oil. My skin drinks it up and it stays supple for quite some time! Takes about 10 minutes for it to sink in, similar to almost all the other oils I've tried.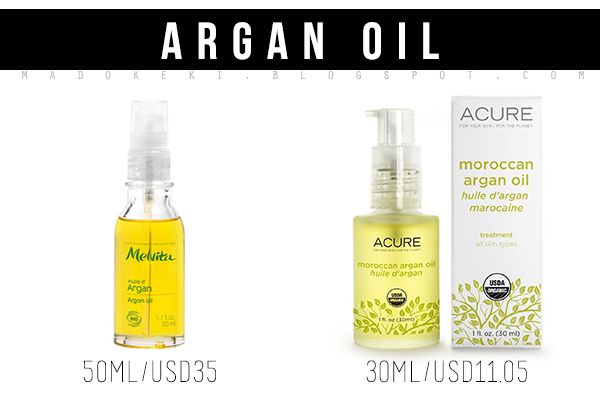 MELVITA | ARGAN OIL | 50 ML | 3500 YEN (about USD 35)
Every oil has it's time to shine, and argan oil had its 15 minutes of fame a while back when the Moroccan hair oil was hyped. But just like any other oil, it can be used on evey other part of your body. Supposedly rich in vitamin E - a good antioxidant that can lighten scars and reduce appearance of lines, if it doesn't actually lighten up your scars, you will be at least guaranteed with skin that is more elastic and soft.
p.s. I can't find any American websites selling it, so I can't get an official price. Loosely converted the currency to arrive at USD35.
VERSUS
ACURE ORGANICS | MOROCCAN ARGAN OIL | 30 ML | USD 11.05
This is also organic, but it's actually available worldwide thanks to iHerb :D And I've done the math: the per 50ML price (only USD 18+ for 50ML) is lower than Melvita's.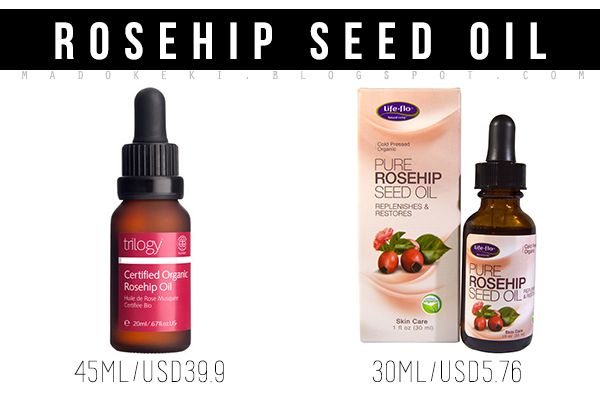 Packed with natural vitamin A, the rosehip seed oil has been found to decrease the appearance of scars and fine lines over time. Something to do with the faster cell turn over perhaps?
VERSUS
LIFE FLO HEALTH | PURE ROSEHIP SEED OIL | 30 ML | USD 5.76
If you don't wanna spend a bomb for basically the same thing, then the one from Life Flo gives you the best bang for buck. I'm on my second bottle now. Don't think I'll ever go without it. I can't say anything about reduction of scars or pigmentation, nor fine lines since I don't have them yet. But I can vouch for its lightness (using 3-4 drops for the face and neck) and how supple my skin the nexft morning. Also, I like its slight nutty aroma.
Formulated with a blend of safflower oil, olive oil, and sunflower seed oil, it is fragranced with the refreshing grapefruit essential oil. Meant to be used as a massage oil, it can also be used to treat extra dry skin, as well as preventing stretch marks.
VERSUS
WELEDA | WILD ROSE BODY OIL | 100 ML | USD 19.97
This rose scented oil blend consists of jojoba seed oil, sweet almond oil, and rosehip seed oil. I picked this out of the other massage oils I've seen because of the nourishing blend of oils. Definitely "better" than safflower and sunflower seed oil, but that's just personal preference! Also, who can resist a luxurious rose scent?
Ending thoughts:
I'm a huge lover of oils. Maybe because I have dry skin to begin with, venturing into the realm of oils is a natural progression for me that isn't filled with the fear some of you might have. Most people fear oils making their skin more oily, or making them grow milia seeds on their faces. As far as I know, milia seeds grow because of some metabolic issues pertaining to the individual, which may or may not be exacerbated by the content of the oils they use. With that said, the fear is real since milia seeds can be a pain to get rid of.
Anyway, I am not the type who gets milia seeds, so there's really no stopping me in swimming in a pod of oil if I can because my skin loves it that much! They do a good enough job to moisturize my eczema patches without irritating it, so that's the peace of mind I get when using natural oils. The lesser ingredients the better!
If you've never used oils on your skin before, fall/winter is a good time to give it a try because the dryer climate will make things less messy for you. Since most oils can be used everywhere, you can experiment on your body before using them on your face.
Just remember to give your skin some time to absorb stuff before laying in bed. Some where around 10-15 minutes is a good estimate I'd say! I don't know about you but I don't like the idea of smearing oils over my bed and blanket.
Image credit: @cosme, iHerb.