Top 3 Pigmented Pink Lipsticks
get it beauty is a korean beauty talk show where they invite experts from the relevant fields to share insights with beauty lovers. one of the things they do is the blind test, and it is what you think it is.
i read that they changed the format slightly this year. instead of pitting random products against each other, they now pit previous year's champion against new challengers.
here is the ranking for pigmented and buttery smooth pink lipsticks!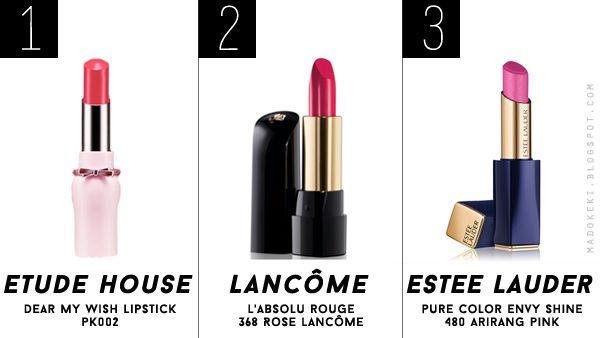 1. ETUDE HOUSE | DEAR MY WISH LIPSTICK | PK002 | 3.5g | 9500 won
pigmented, hugs your lips perfectly. formulated with vegetable squalane for moisture and shine.
2. LANCOME | L'ABSOLU ROUGE | 368 | 4.2g | 39,000 won
vivid colour, creamy texture, and very moisturizing.
3. ESTEE LAUDER | PURE COLOR ENVY SHINE LIPSTICK | 480 | 3.4g | 39,000 won
designed to complement asian skin tones, the blue pigments freshens up the face.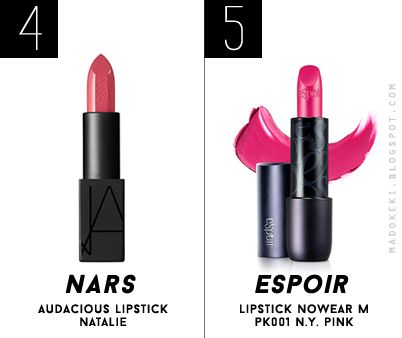 4. NARS | AUDACIOUS LIPSTICK | NATALIE | 4.2g | 39,000 won
true to its colour in just one swipe, applies smoothly with matte finish.
5. ESPOIR | LIPSTICK NOWEAR M | PK002 N.Y. PINK |
3.7g | 19,000 won
2014 blind test #1! matte lipstick with soft texture.
i read that the previous year champion (espoir lipstick) took last place because matte lips aren't trendy anymore. really? i've been wanted to try etude house's lipstick, this ranking just gave me one more reason to try it out.