Here comes my favourite brand.
how can i write about @cosme award winning canmake products and forget about kate, my favourite brand?
i'm once again referencing @cosme's ranking.
FYI, "ranking" refers to the most talked about ranking (by the community), while the best cosme award is an annual award carried out by @cosme editors. as much as i love kate, i'm surprised when i realize kate doesn't have too many award winning items as compared to canmake! so here are 5 items according to the popularity.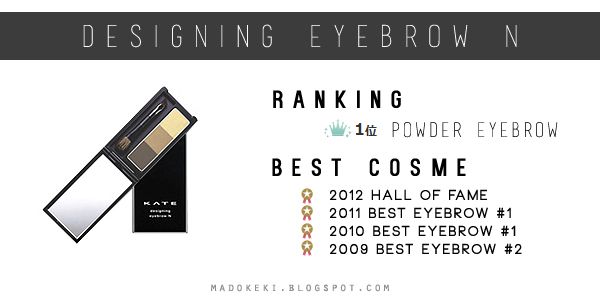 DESIGNING EYEBROW N | 1200 yen
this is probably japan's most loved eyebrow powder. kate was amongst the first to release a 3 shade brow product that provided everything you need to get perfect brows AND a contoured nose. the eyebrow powder managed to stay on my face without special priming or whatsoever throughout the day (unless i wipe it off with a tissue). sweat resistant, probably a little oil resistant too. the powder is extremely versatile and can be used as a matte eyeshadow as well. this is one of my absolute favourites from kate (for
swatches and my full review on the designing eyebrow N, click here
). the dual sided brush that comes with the powder is great for shading the nose. the angled brow brush is too soft for my liking, but it does the job nonetheless.

it's a pity it only comes in two shades of colour, EX-4 is slightly lighter and more yellowish, while EX-5 is a little darker and tends towards reddish brown. i wish they came out with an ashy/greyish brown that's more neutral and natural.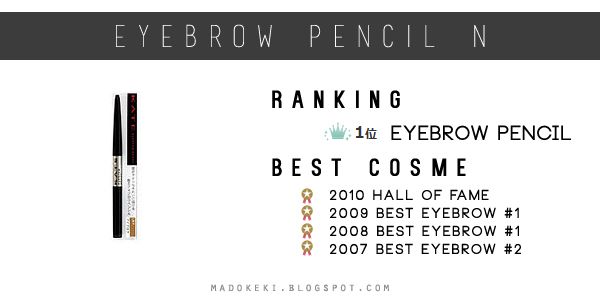 EYEBROW PENCIL N | 700 yen
with a 1.5mm lead, you won't have to worry looking like crayon shin chan after all your hard work. this would be perfect for sketching the end of the brow which is preferred to be slightly skinny. i haven't tried this before, but my friend has and she said the hard lead is able to deposit just the right amount of product on her skin, giving her natural looking brows. it's been said to be sweat resistant by peer reviews on @cosme!

comes in a wide selection of 7 colours.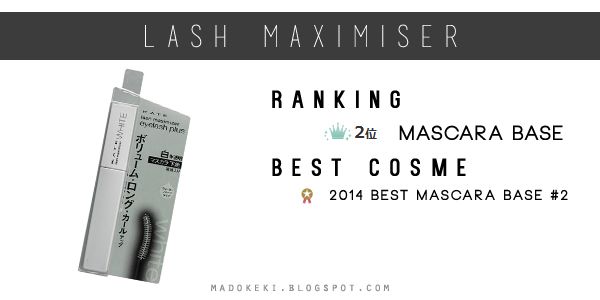 LASH MAXIMISER | 1200 yen
this may be a life saver for peeps with short lashes. used as a base coat, it can lengthen your lashes naturally with black fibres that look just like natural lashes. i have already added this to my to-buy list :D
comes in two shades, EX-1 are black fibres in a white base, while EX-2 contain black fibres in a black base.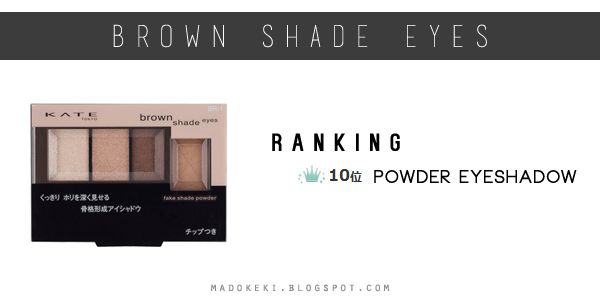 BROWN SHADE EYES | 1600 yen
an eyeshadow trio that comes with an additional matte nose contour powder. this series seems to be more popular in china than in japan. i've seen reviews praising the quality of these shadows and how buttery they are. i believe they're best applied with fingers. setting the boring colour selection aside (as kate always recycles their colour palettes), i'm going to get this palette nonetheless because there is one colour variation that caught my eyes. :D

comes in 6 colours, except for BR-6 which is matte/satin, all other shades are shimmery/metallic.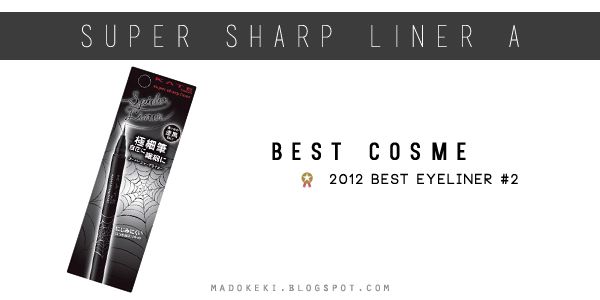 SUPER SHARP LINER A | 1000 yen
as the name suggest, it's a super sharp liner that delivers jet black ink. this used to be called super sharp liner S, and it was a cult favourite years ago. i've tried this before, i like that the ink dries to a matte finish, and that it really lasted all day on my lids on a hot sunny day even without priming my eyes with any powder products. however, it stained my lids, something i'm not too happy about.

comes in 3 colours.
you can read
my full review and see my swatches of the super sharp liner here
.
IN CONCLUSION
i have confessed my love for kate many times. most of the award winning products are for the eyebrow, i believe most japanese girls go to kate for their brow products? personally, i have 5 eyeshadow palette from kate and i love them all.
while i really love the eyebrow powder, i didn't agree with the number 2 spot the super sharp eyeliner got. i don't agree with the ranking everytime.
if there's one thing the @cosme ranking does, it's to add more items to my "to-buy" list. to be fair, they also give me a rough gauge of how good a product is before i buy. call it my form of market research :P
image credit: all images adapted from @cosme and kate official site.