while it may be too late to be buying gifts for your friends (as christmas is in 2 day's time), here're a few items you can gift yourself this holiday because holiday sets are really good valued purchases (compared to their usual retail price). some of the products i've used personally before and would totally make use of this chance to repurchase them. some of them i've seen them floating on the internet somewhere and thought it may be a good time to try them.
so yea, this is actually just another wishlist. HAHAHA! but i'd totally gift these to my girlfriends too because i think they're crowd pleasers.
either way, hope you enjoy this little list of products i curated!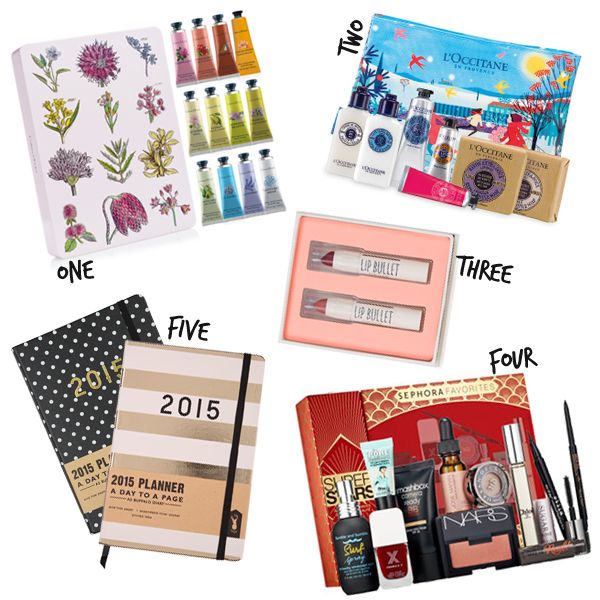 1.
Crabtree and Evelyn Hand Therapy Paint Tin
(USD$60)
this may seem a little over kill - 12 tubes of "ultra moisturizing" hand creams (25g each) that will probably last you for the next 12 months! but it's the only set i saw that contains my favourite scent -
summer hill
. it's a very light and pleasing scent that evokes a scene of english cottages surrounded by greeneries in my mind. the formula is pretty hydrating and the scent lingers throughout the day, however, i have particular dry skin so i need to reapply this if i'm in an air-conditioned place. if i ever snap this set up, my girlfriends will be getting free hand creams from me :D on a side note, the rosewater, lavender both smells heavenly too. i did use nantucket before, it's a scent that i grew to like after several uses.
2.
L'occitane Shea Pampering Treat
(USD$38)
i chose this set because it's the only range i've tried. the shea shower cream is a soapless bathing cream that leaves your skin silky smooth and i really love the soothing scent. somewhat reminds me of johnson's baby powder and puts me in that calming state of mind. there's also a rose scented soap and hand cream, and i do not know of one person who doesn't like the scent of rose. ok i lied. i used to really dislike the rose scent, but it's because the first rose scent i ever sniffed is artificial and was really horrible.
3.
Topshop Mini Lip Bullet Duo Set
(USD$20)
i saw swatches of these on a
beauty blog
one day and it was love at first sight - a perfect nude shade and deep wine shade. i've heard that the topshop lip products are surprisingly good! i used the word "surprising" because you wouldn't expect a clothing label to come up with decent cosmetics. too bad it's already out of stock :( $20 for 2 mini lip bullets sounds quite ok, even though i heard it contains very little product.. but, i will never run out of lipsticks anyway, i don't mind having lesser product just so i can finish it up faster! URGH i hope they release this as a part of their permanent collection some day. I WANT THESE COLOUR IN MY ARSENAL SOON!
4.
Sephora Favourites Superstar
(USD$75)
the deal almost sounded too good to be true, looking at the products that the box contains, their usual retail value far exceed the price tag of this combo (of course, it also goes to show the huge margin sephora is profiting)! we're looking at nars blush, fresh sugar lip treatment, bumble and bumble surf spray.. and a chloe perfume rollerball? perfect for travel!
5.
TYPO A5 Daily Planner
(USD$9.98)
if you prefer paper and pens over the digital planners like me, this may be suitable for you! the outer cover definitely suits my taste :D couldn't decide between the polka dot or the gold stripes. both looks amazing. the only thing i'd like to add on my own is a monthly planner because i like to see my entire month at a glance. to another organized year!
last but not least, i'd like to wish you a
merry christmas
in advance! it's very encouraging to see my blog being read. even though i started this blog to document stuff, it's a little bonus when you know that somewhere out there, someone bothers to give me their precious time to see what i have to say about certain things. you gave me the power to be heard, and that's very motivating. even though my skin is still recovering right now and i'm in no way to do beauty testing and reviews, i'd still try my best to update and bring you whatever i deem valuable to everyone! hope you've been enjoying these non review entries so far.