L'Oreal Lucent Magique Foundation N2 Pure Porcelain Swatch and Review
after eyeing for quite a while, i finally snapped it up when it went on 30% off in watson's. i thought i got a really good deal and was happy for a few weeks, until the next deal happened - buy 1 get 1 free. that's 50% off! WHATEVER!
i don't regret buying this anyway, because i LOVE it.
the entire lucent magique series aims for a lit-from-within look with its light infusing technology. from its official website, they say this is achieved with a silver transparent liquid that amps up the reflection.
it's quite a standard size for most foundation, fits in my hand nicely, and it has a pump. the gold part is just plastic paint though. i wish it's metal. i love the feeling of cold metal in my hand.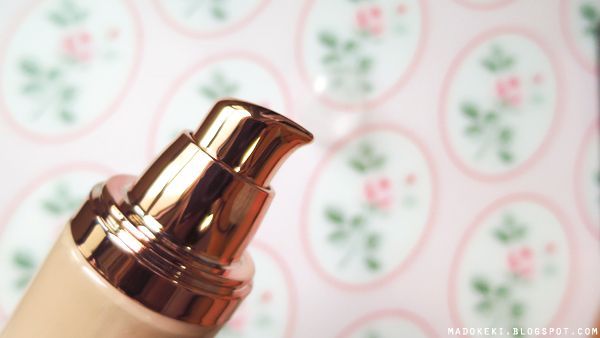 so gold. one of the things that loreal do to differentiate itself from their sister brand maybelline - loreal is more classy.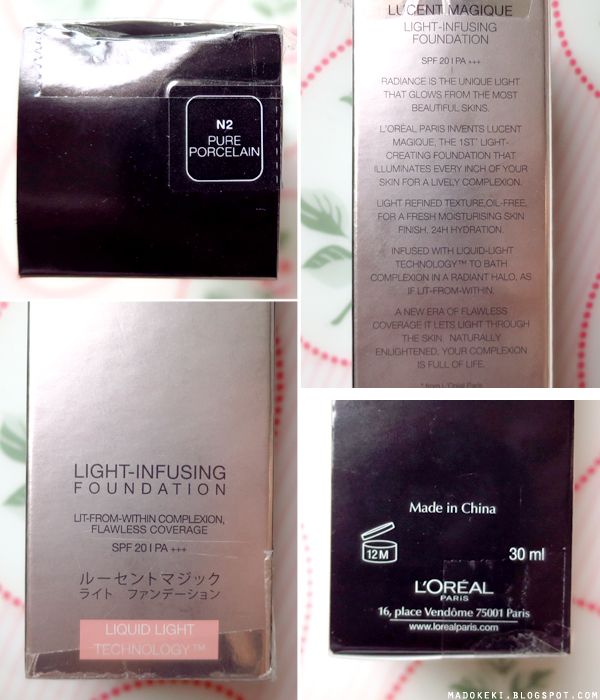 "first light creating foundation", oh really? :/ that's kind of misleading. the formula is oil free, while it's hydrating, don't expect it to lock in moisture for you.
it also comes with SPF 20, PA+++. however i didn't experience too much of the dreaded white cast that most foundation with SPF have.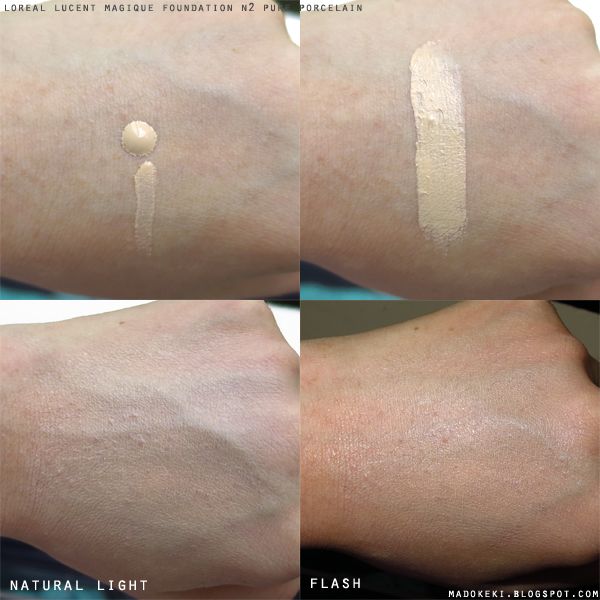 N2 pure porcelain is a light yellowish beige. N2 is the lightest shade they offer here in singapore.
after blending, it appears slightly fairer than my original skin tone. GOOD :) since i use this on the center of my face for brightening only. you can compare the way it looks under different lighting - in natural light it appears to have a white cast, but under flash it actually looks a lot more natural as light is reflected un-uniformly, which gives my hand dimension.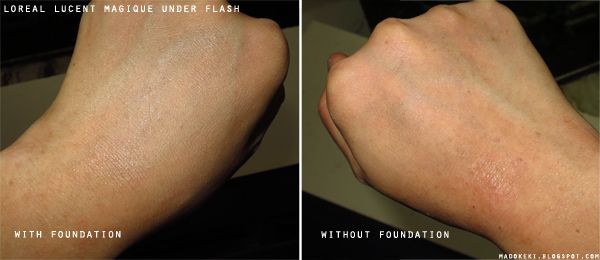 comparing between my hands, i almost couldn't tell which one has the foundation. this foundation performs very well in flash photography because it doesn't give that uniform white cast that most foundation product. instead, it reflects light according to your natural contours to highlight those areas. my hand on the left looks a little brighter than my hand on the right, also, it looks more dewy and hydrated, however, the "lit from within" effects is really subtle.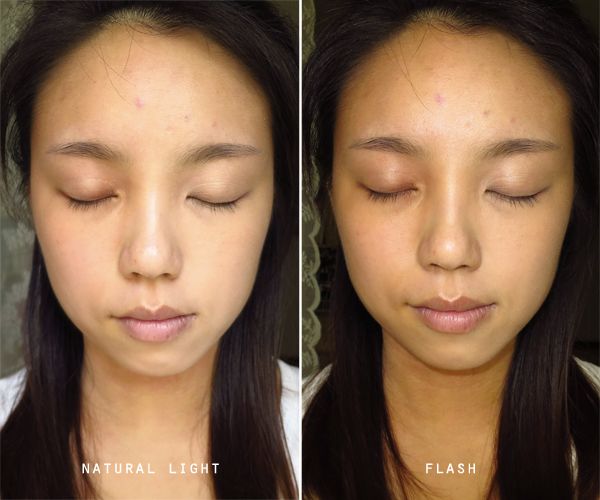 i only applied the foundation on half of my face, can you tell which side? it's on the right hand side of the photo. this is one thin layer of foundation. coverage is pretty damn low (i used a flat foundation brush).
IMHO
the foundation has a very light coverage, you can build it up but it'll take quite a few layers. it can't cover up my blemishes on my forehead, but it brightens very naturally. this doesn't produce a white cast unless you've layered on too much.
the foundation is very runny and thin, which explains for the coverage of the product. it blends easily, and unlike the
revlon colorstay
, this won't set that quickly so you can have all the time in the world to blend. once it sets after some time, it is slightly sweat resistant. don't expect it to rival the
colorstay
in this aspect.
as for the lit from within look and all that light infusing and light creating claims.. i can't say that it's entirely bullshit since this foundation did manage to reflect light in a way that no other foundation that i currently own can, but i'm pretty sure if i were to mix my
nature republic blending highlighter
into my foundation, i can get much or less the same result.
what i love the most is how natural the brightening effect is, perhaps it's because this colour matches the undertone of my skin. i usually use a slightly pinkish product for brightening, which make look a little odd when i didn't blend it into the side of my face well enough.
the watery consistency also helps to achieve that light coverage.
as with all foundation, this will accentuate any dry skin. moisturizing before hand can reduce the appearance of dry skin.
while the brightening effect is really awesome, i can't agree to what it claimed - a dewy, k-pop look. it's not as dewy as i expected. i guess you'll need to get the primer (which you can use as a highlighter as well) to achieve that look. i have the liquid highlighter with me so it's fine.
i bought this from watson's for SGD$16.90.
IN A NUTSHELL
1. brightening and light weight
2. light to medium coverage
3. not long wear
4. diffuse light very naturally and beautifully (especially so in flash photography)
MAKEUP LOOKS