L'oreal Lucent Magique Touch Up Pen (Fair)
this was kind of an impulse buy. i've heard a lot about the YSL touche eclat highlighting pen. considering how loreal manufactures YSL's products, i can expect them to use similar formulations to achieve similar results, right? that's what i hope for, since i'm only paying a fraction of the cost for this little pen.
these are sold under the name "lumi" in the states. in asia, they're launched udner the lucent magique line.
IN A NUTSHELL:
1. very brightening
2. i can't tell if it really has the lit from within look
3. low concealing powder
4. rather thick consistency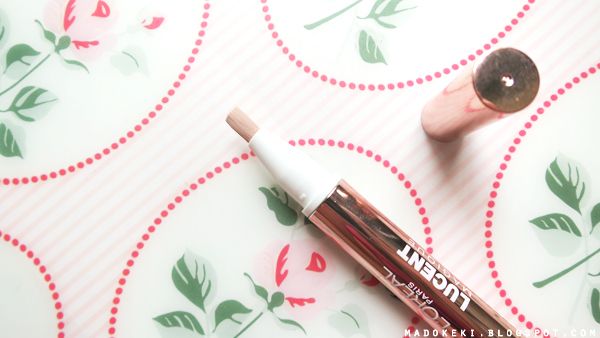 the pen comes with a twist mechanism - twist the back and product will extrude from the plastic fiber tip. it takes about at least 3-5 clicks to get enough product streaming out for smooth application. there's no need to worry about getting too much product out at one twist.
the product claims to be infused with liquid light technology, a transparent liquid silver that helps to reflect light. !?!? i can't source any information on the "byron technology". but what this pen aims to do is to "cover" by reflecting.
you hear me right. if you can make something reflective like a mirror, then you won't be able to see what's behind the reflective surface, instead, you see light - the area will appear brighter and whiter.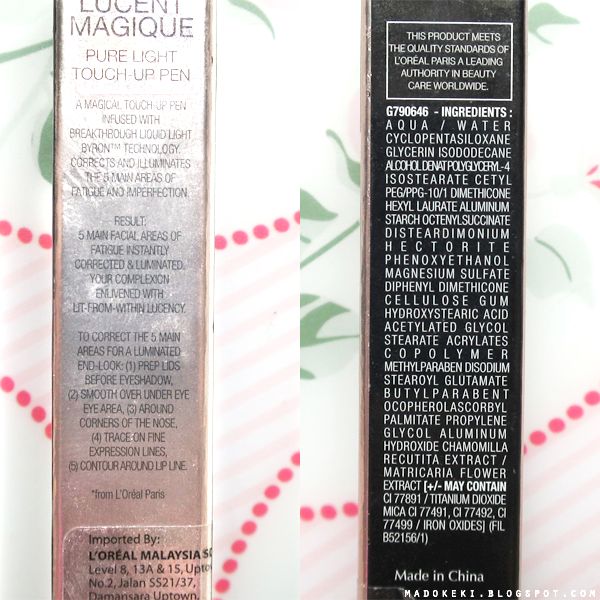 suggested instructions and ingredient list.
there are
two colours
in the series, fair and light.
fair has a pink undertone, while light has a yellowish undertone.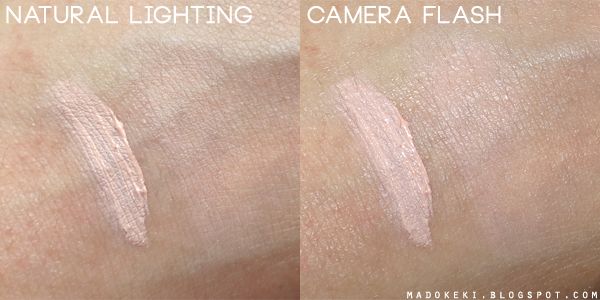 fair is a light pinkish beige, several tones lighter than my original skin tone.
once it blends out, it becomes more subtle and seeks to brighten in a subtle manner. it performs pretty horribly in flash, be warned.
IMHO
the highlighter pen is a different kind of highlight to me. as opposed to the pearly kind of highlighter that we're familiar with, this is more of a whitening kind of highlighter. most of the highlight is due to it being in such a fair shade when contrasted next to my skin. while it can't cover or colour correct my dark circles, it did reflect light in a way that made them less visible.
i really can't say much about the "lit from within" look when i use this product, as i've tried flashing myself with the camera flash wearing this on one side of my face and my normal concealer on the other, both of them appear to have the same kind of brightening effect.
perhaps the difference is only noticed under ambient light, as i did notice some "blurring" effect on my skin after i used this product.
the consistency is slightly thicker than what i expected, making it a little hard to blend unlike the foundation from the same series. it helps to use a little more product as it allows it to be blended a little easier. it dries down pretty quickly, so tap and blend fast.
i find that i can use this as a brightener on my face to substitute foundation if i just want a brighter look. i usually use my foundation as a brightener, but thanks to its packaging, it makes it much more easier to deposit products onto my face. i think they should totally consider packaging foundation in this kind of packaging next time, it makes it travel friendly too.
i purchased this for SGD$10 when it was on 50% off at john little.