Maybelline Lashionista Mascara VS Dolly Wink Long Mascara
my first ever film type mascara was the deja vu fiberwig mascara and it disappointed me. but that didn't stop me from trying more film type formulas.
film type mascaras are water and oil resistant, as far as the formula in the past few years goes.. i can't say the same for fiberwig from a decade ago! they are easy to remove in the shower as they can easily come off with warm water. they form little "caps" of black polymer that will just trickle down your drain after some gentle rubbing.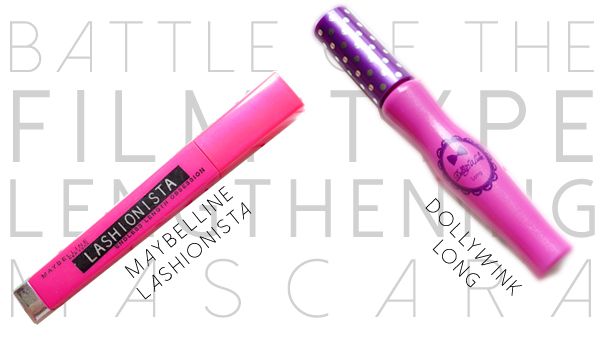 i'm comparing the
maybelline lashionista mascara
in black to the
dollywink long mascara
, also in black.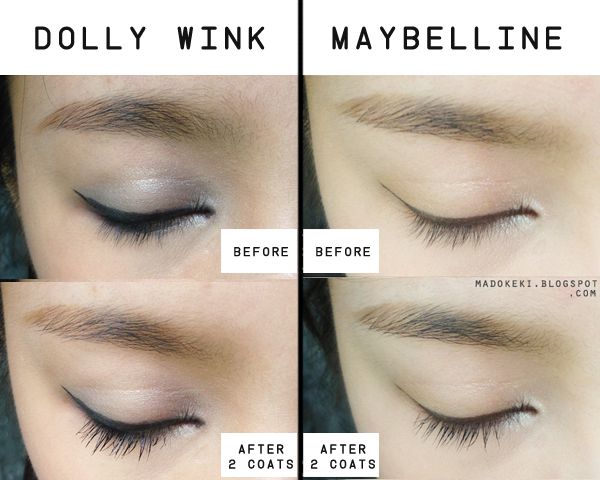 similarities:
1. both create very natural lengths (seems to have similar lengthening powers)
2. both straighten my curled lashes
3. both last me throughout the entire day, no panda eyes!
4. both are able to hold curls IF i use a heated lash curler after application, and they do not melt or stain the heated lash curler!
differences:
1.
dollywink
has a wetter formula and tend to group my lashes together, whereas the
maybelline
is of a drier formula, giving me a one by one look.
2.
dollywink
has a fatter brush than the
maybelline
.
3.
maybelline
is able to go up to 5 coats without looking unnatural, while
dollywink
may look a little spidery.
4.
maybelline
may be a few dollars cheaper than
dollywink
.
5.
maybelline's
formula feels more light weight.
that's all for a simple comparison! if you were to ask me which do i prefer, i'd go with the maybelline. even though both will straighten my curled lashes, the lightweight formula of the maybelline means i can keep going on and on to build a layer of fibers, and then using my fingers i can push these fibers upwards and they'll hold the curl just fine. they'll probably need some "reassurance" throughout the day to keep them perked up, but i couldn't achieve that with the dollywink because it's formula is just too wet. i did try to remove most of the excess mascara on the wand, but it's just a little troublesome.
for a more dolly look, i'd go for the dollywink since the brush bunch up my lashes together. for a really natural "i don't have any mascara on" look, i'd choose maybelline.
the full review of the individual mascaras are linked above! check them out if you want more details.