Lust List #2: Visee
continuing on with the festivity, here's lust list number 2! i'm just sharing what i've seen during my "monitor shopping" lately since i can't make videos now.. i have more time on hand :P
visee
is a japanese brand that has been around for quite some time, but they didn't really fall into my radar for some unknown reason. they've recently overhauled their brand, graduating from "girl" and moving on to "lady". they're calling themselves glamourous, and the packaging definitely fits the bill - lacey patterns embossed into the packaging and the product!!!
i've been looking at the visee eyeshadow palettes ever since they did a "line revival" - they totally redesigned their brand image and product packaging. now they're really appealing to me, despite knowing how good their eyeshadow was all along. it's said to be even more pigmented and creamy than kate's eyeshadows!
visee is a product line produced by kose that caters to the younger crowd, just like what kanebo did with kate, and shiseido did with majolica majorca. smart move.
EYES
as usual, the eyeshadow caught my eyes first. there are 4 products in their entire product line - eyeshadow duos, quads, and two quints. BEAUTIFUL PACKAGING, especially the glossy rich eyes.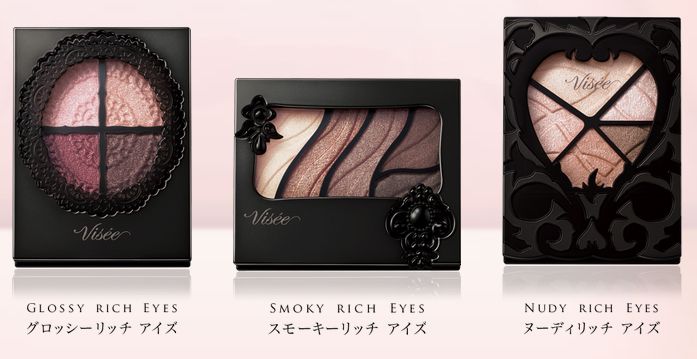 i've only showed three of the products here, from left to right:
glossy rich eyes:
eyeshadow quad, containing one sheer pearly base and three pigmented colours
smoky rich eyes:
gradated eyeshadow quint, containing one "souffle base", 2 gradation colour, and 2 liner colour.
nudy rich eyes:
sheer and gradated eyeshadow quint, also containing one "souffle base", 2 gradation colour, one liner colour, and one highlighting colour (for the inner corner of eyes).
based on online reviews, the nudy rich eyes are the sheerest of them all, while glossy rich eyes are the richest. i'm not too sure what kind of texture the base is, but it appears to be a semi cream type kinda product that may promote creasing. :/

gotta admit, part of the reason why they caught my eyes this time round is because they were ranked number 1 in terms of popularity. i mean, it must be pretty good if that many japanese girls like it, right? or is it just hype? :X
GLOSSY RICH EYES
: (1200 yen)
they offer 8 colour selections, i rounded down my interests to two. actually, i'm really interested in their orange and pink palettes too.. but... i feel bad lusting after 4 eyeshadow palettes from the same series at once.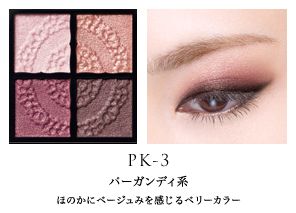 PK-3 is probably the most popular colour because it's the one featured in the ads. it's a
burgundy
palette that consist of beige and berry shades. i won't lie - i am really attracted to the colours, but then again this isn't a very daily colour.
BR-5 is a
gold brown
palette, looks really similar to the
lavshuca melting eyes
palette i have in terms of colour. this leans towards the yellow browns as the description says.
i just changed my mind.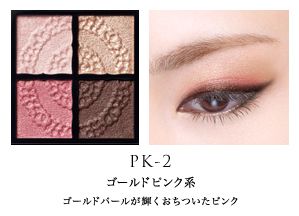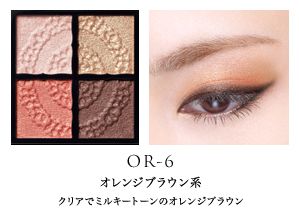 PK-2 is a collection of
gold pink
shades, containing a blend of gold and pinks. looks so lovely, isn't it?
OR-6 is the
orange brown
palette. according to the description, it has a "clear milky tone orange brown", does that mean a pastel orange kinda effect? either way, it's really up my alley.
SMOKEY RICH EYES
: (1400 yen)
also offers 8 colour selections, WOW. this palette seems like a good replacement for my
kate gradical eyes A
, not just because of the gradation, but also because of the brush that comes along with the palette! it's not just the dual sided spongey chip! it's a chip AND a brush!
the two darkest colours on the right are liner colours, yes, both of them!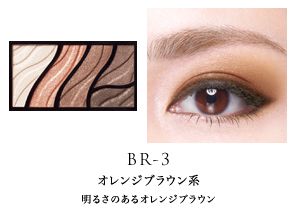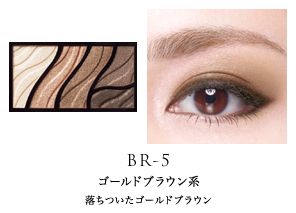 you can tell i'm not too adventurous here. can't decide which brown i should get next time.
BR-3 has
orange brown
shades, while BR-5 has
gold brown
shades. the swatch they have makes BR-3 look like copper toned, while BR-5 looks more neutral.
i'm liking BR-5 more looking at the photos.
NUDY RICH EYES
: (1400 yen)
this product line offers 5 colour selection, it seems to be most appropriate for those who want just a hint of makeup. it's economically unfeasible to get something like this because you can probably make do with the previous 2 lines when applied with a very light hand. however, it may just be the best thing ever for makeup beginners since there's no way you can go wrong with this - the lack of pigmentation means you won't ever get any obvious unblended colours.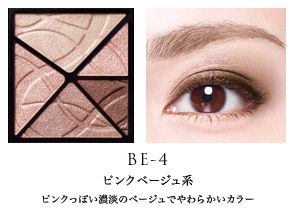 BE-4 contains
pink beige
shades
,
which actually looks more neutral to me than the other shades (seems to be too yellow or red).
this palette ranks number 4 at the
@cosme ranking
, FYI.
CHEEKS
another thing that caught my eyes are their blusher. the lip and cheek cream is a relatively new product that came out this year, but they totally beat their own powder cheek blusher hands down!
3rd place! canmake cream cheeks are 4th place!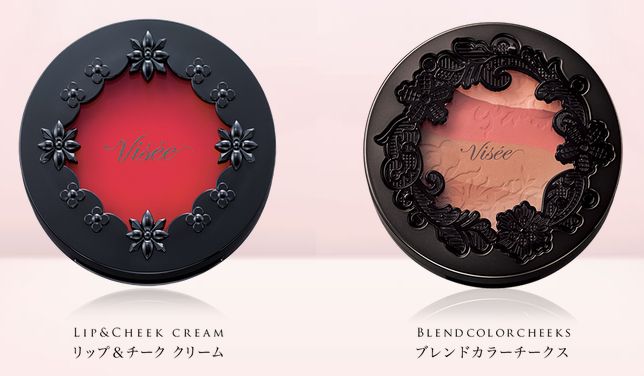 there are two blushers offered, a cream and a powder formula. the cream blusher can be used on the lips as well..
but my lipstick can be used as a blush too, so i'm giving it a pass.
BLEND COLOR CHEEKS
: (1500 yen)
there's 8 colour selection, each of them offering a cheek colour in a series of pinks, corals, and reds, and a "blending colour" (the colour right at the bottom). apparently, you're supposed to use the blending colour across the nose bridge (according to its instructions)!? i don't know about that.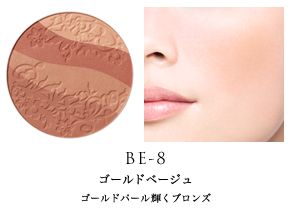 BE-8 is called
gold beige
. offering a cheek colour and "skin blending colour". i'm wondering if this shade can be used as face contour. the formulation seems to be pearly based on the description: "gold pearl shiny bronze".
LIPS
CREAMY LIPSTICK
: (1500 yen)
comes in a selection of 10 lip colours! honestly speaking, i'm not too interested in their lip colours since japanese formulas tend to be super shiny and creamy.. not that i'm complaining, but i don't always want that shiny look. if these were matte, i'd give it more thought.
CORRECTION: i won't give it a second thought if they decide to release matte formulas.. BECAUSE LOOK AT THAT PACKAGING!! i love it to bits! all black everything! SLEEK! and the matte black lace printed on the tube.. good lord.
WINTER SPECIAL
:
they even released a limited edition for winter this year! i'm not a fan of nail polish, but the colours look awesome like that!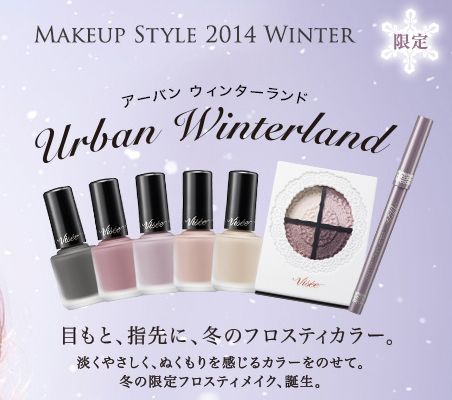 5 matte nail polishes, two limited edition eyeshadow (a pinkish brown and a beige purple), and two eyeliners (brown and gray purple). the eyeshadows are in a white packaging as opposed to the usual black case.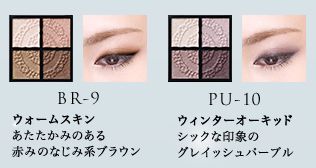 good lord, the brown palette (BR-9) looks good. looks really subtle and meek! it's called
warm skin
. from the photo, it looks like a very soft pink beige and some browns thrown into a palette.
PU-10 is called
winter orchid
, it's something that can go wrong very easily on asian skin. do you know that orchid is the pantone colour of the year? random bit of info! this palette consist of grayish purple shades, which just may work on asian skin if you're fair enough!
IN CONCLUSION
i know i'm going a little cray cray here. i'm looking forward to swatching them when i'm back in HK, since they're now available there! no need to travel all the way to japan >_< i'm actually very excited to try new eyeshadow brands, since my stash is mostly dominated by kate..
not that i need anymore eyeshadow though.
seen anything you like here? let me know!!!