It will look good on any eye shapes and types
one of the good news about my skin recovering well is that i'm finally able to go out to meet new friends again! this is a look i wore for a first date - it's supposed to be minimal and fun, and to enhance my features.
i did away with my usual brown eye shadows because i didn't want any shadows on my eyes at all - i want them as bright and sparkly as possible. the dash of pink under my eyes is my way of making the look more fun and cute.
fair enough, i actually went with a pair of nude lips that night because most guys don't respond well to bright lip colours. but for this video, i put on one of my favourite lip colour because I LOVE IT.
watch the video below!
PRODUCTS USED //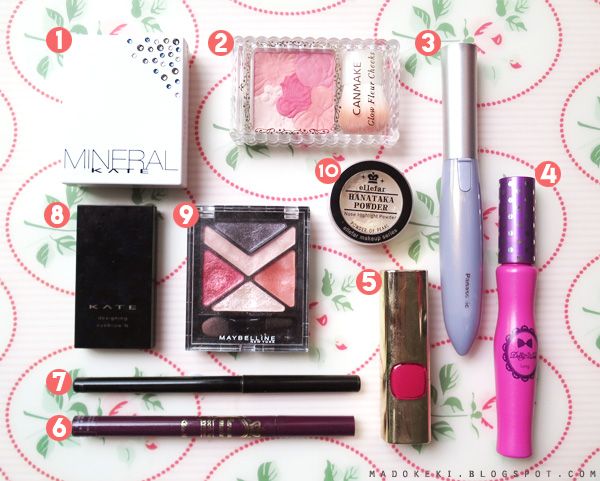 CLICK ON LINKS TO SEE SWATCHES/REVIEWS OF THE RESPECTIVE PRODUCTS.
1.
KATE mineral foundation powder (OC-B)
2.
CANMAKE glow fleur cheeks (04)
3. PANASONIC heated lash curler EH2300
4.
DOLLYWINK long mascara
5.
LOREAL color riche lipstick (P511 touch of amaranth)
6.
HEROINE MAKE smooth liquid liner (black)
7.
MAYBELLINE masterliner (brown)
8.
KATE designing eyebrow N (EX-4)
9.
MAYBELLINE hyperdiamond shadow (PK-1)
10.
DAISO ELLEFAR nose highlighting powder (pearl pink)
BRUSHES USED //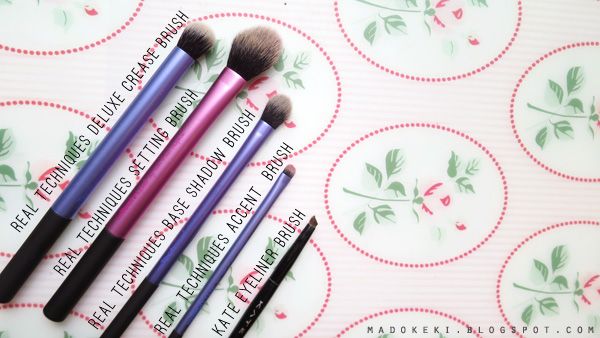 from left to right:
1. REAL TECHNIQUES deluxe crease brush
2. REAL TECHNIQUES setting brush
3. REAL TECHNIQUES base shadow brush
4. REAL TECHNIQUES accent brush
5. KATE eyeliner brush (cut into an angled brush)
COMPARISON //
i never thought this makeup is very transforming until i saw the comparison with my naked eye. not only did
my eye look rounder and bigger
, my lashes made sure my pink eye shadow doesn't make me look like i have a pink eye (infection). my lashes are almost invisible on my naked eye!
AFTER //
when i do close my eyes and expose my eyelids, it's totally clean and bright. i like how it looks when contrasted with the sharp black eyeliner.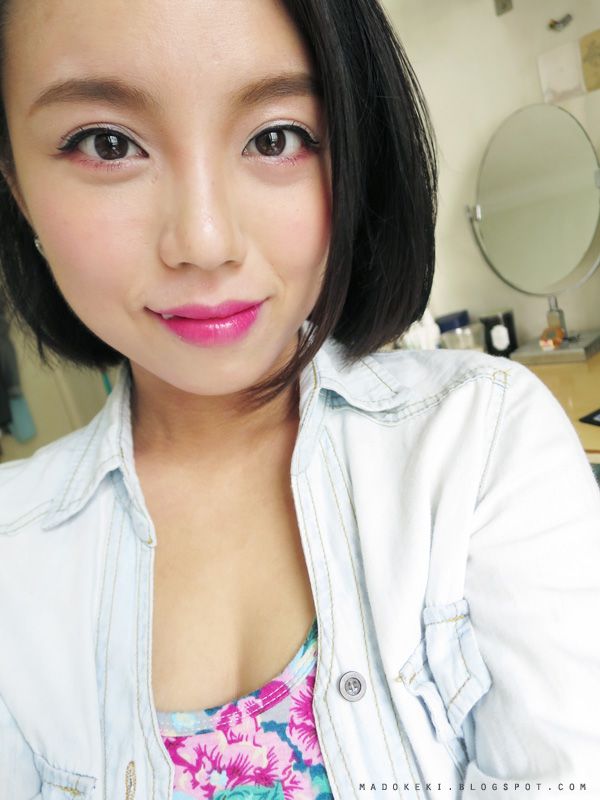 mandatory awkward selfie :P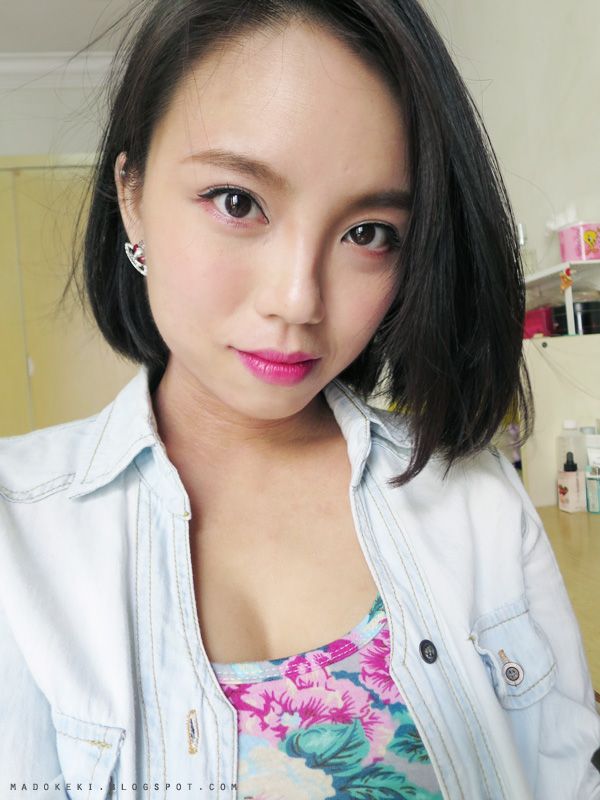 from afar you can't really see the pink eyeshadow going on, so it's not going to scare people away. at most you'll super adorable because usually people who just cried have pink eyelids!
do you like this look? i hope you do because i love it! it's an awesome way to wear colour eye shadows! instead of wearing it all over my upper lid, a small accent of the colour on my lower lid proves to be a playful and fun way of experimenting with colours. you might be able to achieve the same look with a colour eyeliner, do give it a try!
i'm telling you, the bottom lid will be of great emphasis in the upcoming japanese makeup trends ;)
do you like this look?